I hacked my way through the multiflora rose to the large tree amidst the jungle-like understory. I then used my hatchet to chop some deep wounds into the bark of the beast, squirted herbicide into it while muttering, "die, die, die!" Yes, I was at that point where one starts talking to herself and muttering cheesy movie lines as the hero starts ratcheting up the body count, because the scenario had already been repeated over and over with no end in sight.
"But she's a conservationist, and she's killing trees!" you might be thinking. I am, because my husband and I are trying to wrestle my parents' forest back from being hijacked and held hostage by Ailanthus altissima, bad guys of the woods. We are trying control them through a USDA-EQIP forestry cost-share program.
Much has been written about this invasive species, but until you try to control a stand of it, you don't fully appreciate its evil powers. As with most villains, Ailanthus seems to attract other nefarious characters who seem to want to protect it….namely multiflora rose, poison ivy and green briar.
I don't have enough space here to list all of the negative qualities about Ailanthus, which somehow is also known as "Tree of Heaven." A quick web search will turn up lots of information. But mainly this tree will grow pretty much anywhere (including sidewalk cracks and concrete walls), is prolific at reproducing, and has an allelopathic effect that suppresses native plant associates in forest succession, so it outcompetes everything else. Wildlife doesn't like it (it stinks so I understand why), so as it's crowding out native trees such as oaks and beech that provide good wildlife food and habitat, it's not bringing anything to the party. A native of China, it was brought to North America as an exotic ornamental shade tree in Philadelphia in 1784. It was marketed as easy and fast growing for cities and farms alike, and boom. We've heard these stories so many times.
In addition to the negatives, it's tough as nails. There's a variety of control practices out there, but since the trees we are treating are big, we are going with the hack and squirt method. This means one has to sneak up on them, hack around the trunk but not completely girdle it (or it heals over) and squirt herbicide into the cuts within five minutes (before it seals up). Cutting the trees just increases sprouting and creates a bunch of small trees to deal with. Oh, and did I mention that they can produce up to 325,000 seeds in a year? We will be treating these trees for years to come.
Ailanthus looks a lot like walnut or sumac, so people mistakenly let it grow thinking it's a walnut tree. Once you know what it is, you will see it everywhere. I am amazed at how many people have it growing in their yard or landscaping around the house as a volunteer. If you have Ailanthus, kill it. If your forest is full of it, consider applying through USDA-NRCS for technical assistance and cost-share to control it. A forest management plan is required before any cost-share can be awarded, so contact our office, or your local USDA-NRCS to understand the process.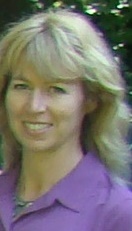 MICHELLE WOOD, DISTRICT PROGRAM ADMINISTRATOR
Michelle Wood oversees the day to day operations of the district and the diverse activities offered to promote clean water and healthy soil. With a lifelong passion for the outdoors and a background in communications, she appreciates the conservation district grassroots model which enables the local board and staff to create programs that meet the conservation needs of Holmes County. Michelle is a member of several statewide committees, including the ODNR Parks Advisory Council and the Clean Ohio Fund Natural Resources Assistance Council. Contact Michelle at 330-674-2811 or at mwood@co.holmes.oh.us